COVID-19 INFORMATION FOR PATIENTS
Updated 07 Jan 2022
Metro Physio is
*100% double and booster vaxxed
*regularly Rapid Antigen Tested
*wearing an N95 mask and a face-shield throughout the day
to ensure your and our safety.
We follow a COVID-19 SAFE plan. If you have any COVID-related symptoms, please stay at home and get tested. Please also let us know so we can reschedule your appointment or switch to an online consultation.
In addition, for an unvaccinated individual, we may ask you to do a Rapid Antigen Test on arrival.
Metro Physio is a very small professional business, that relies upon your sensitivity and cooperation during these uncertain times.
Thank you for your kind understanding and cooperation.
Who we are
Free from Headaches, Migraines and Jaw Disorders
Metro Physiotherapy and Injury Clinic is a boutique physiotherapy clinic located in Sydney CBD since 2009.
We have expertise in treating jaw problems, headaches, migraines and vestibular conditions. At Metro Physiotherapy, we navigate you to pain free life and beyond. Our aim is to help you enjoy your healthy days in your best condition. We provide accurate assessment and diagnosis, successful treatment plans and
the best personalised physiotherapy treatment with a long-term effective result.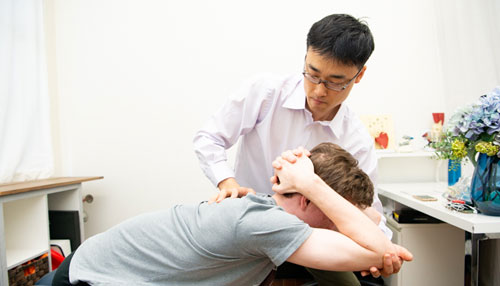 Meet Tad Okutani, your physiotherapist
I listen to you. We set your goal together.
I walk throughout your treatment journey with you.
As Metro Physiotherapy is a small boutique clinic, you will always see Tad who you can count.
There is no hassle to go through your story again and again.
Tad will be your private physiotherapist.
Are you walking at least 7000 steps per day? According to

https://youtu.be/zdiUZsYAjbQ If there is one posture to totally avoid in your

https://youtu.be/nZKDQrRolcE Jaw can get locked and suddenly you are unable to
Caring with professionalism
and warmth
Q
Caring for you like you are our family. This is in our gene, a cornerstone of Metro Physiotherapy.
Caring for Wife is our starting point at Metro Physiotherapy. Tad's wife, Saya, grounded her teeth hard when sleeping, as bad as her teeth were worn out and chipped. Due to her habitual bruxism, she had been suffering from tight cheek muscles and jaw clickings. Tad wanted to treat her so he started to study and explore about temporomandibular joints.
Read More